I have an idea, and I need your help.
I grew up a Marvel kid. I knew at least a little about the big guys over at DC of course. Superman, Batman, and Wonder Woman mostly: the franchises that enjoyed success on TV and/or the big screen. The three of them were so recognizable that I always considered myself as rooting for the underdog by buying Marvel. Sure, Marvel had its household names but none of them were as iconic as the Big 3 of DC.
As I got older and stopped caring about any competitive urges between comic book companies, I still didn't stray much. There were doubtless a few reasons for that, but one of the big ones was that I simply knew the history of Marvel's cooperative universe better than that of DC.
DC hasn't made it easy for me. Precisely because of how widely recognized DC's heroes are, it has never made sense to me that DC's crossover events relied so heavily on the changes in status quo.
Crisis On Infinite Earths
is practically impenetrable without a good deal of knowledge about what came before, as is
Infinite Crisis
. When I was a part of
Trouble With Comics
and was invited to something of a roundtable discussion of
Final Crisis
, I never even considered it a possibility.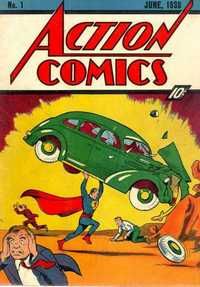 Maybe at this point DC will always be somewhat impenetrable to me. At least in the sense that it may never be possible for me to feel the same about a book like
Whatever Happened to the Man of Tomorrow?
as someone who read it only after reading
Superman
and
Action Comics
as a child. Not to mention that with the massive reboot approaching, the DCU's history is about to get a lot more confusing.
Regardless, I still want to try. Plus, I'm a blogger, and I need something to blog about.
So, here's my idea. I need you - comics bloggers, fans, readers, etc. - to help me out. What I need to do is get a list together of DC graphic novels (and by "graphic novels" I simply mean any reprint collection) that are important to the history of the DCU. Now, to be clear, I'm not looking for a "Best Of" list. I'm specifically looking for books that are important in understanding the history of the DCU, regardless of quality.
And once we get this list together, I'm going to read and review 52 of them here at Poplitiko.
I'm not going to read and review 52 of them
right away
. It will take a bit, but I'll get it done.
So, let's get started. What've you got for me?
-Mick Martin